Lightning Oak Art Farm ( Legacy Web Site, circa 1996 with modest updates)


photo. early spring 2004, (RIC HORNOR, "Home Sweet Home" 916-933-4490)

Welcome Friends and Visitors... to The Misguided Tour!
For the safety and convenience of visitors: Your motto for the day should be: "It ain't fancy but it's fun."

It is not intended for all public consumption, though not forbidden, nor does it require eye relaxation exercises. It may however improve your outlook for the day.

** Viewpoint Photographic Art Center Memebers and their Guests Field Trip:
March 17, 2013: Spring Photography Shoot and Eclectic Gathering:
Information and Directions: ViewpointFieldTripToLOAF-Announcement_3-17-2013-R7.pdf
Directions to RIC HORNORs Lightning Oak Art Farm.pdf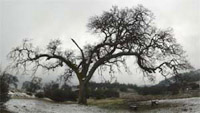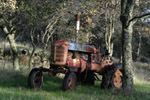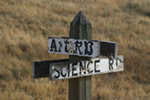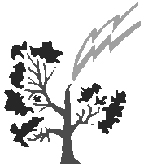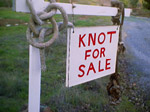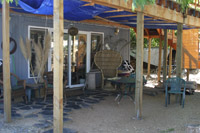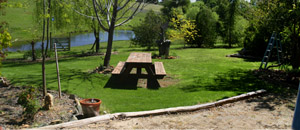 DIRECTIONS: Autos:
1. Drive from Hwy 50, exit El Dorado Hills Blvd. (NOT LaTrobe rd.)
Go Straight on El Dorado Hills Blvd. ~5 mi. to Green Valley Rd. Go straight through on Salmon Falls Rd.

Salmon Falls Road. Go 9 miles from Green Valley Rd.
Turn Left onto Peacock Way. Drive 1/2 mi. on Peacock Way, (wineD road). Go slow over the drainage ditches or your teeth will fall out.
Turn Right onto Art Road. Drive 1/3 mi. (through the ugly chain-link fence gate)... LOAF.
Parking: Park on the top of the ridge, after going through the chain link fence. Turn left on the ridge and go past the blue Nissan.

There's ample room up there and the ridge is all rock based. You can see the house from there. It's only about 50-100 feet away, (Barn Red, White trim).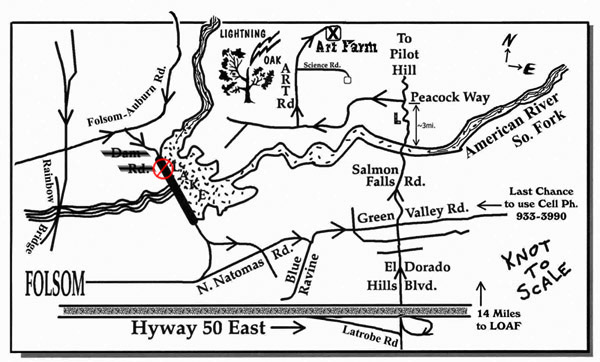 DIRECTIONS FOR UFOs: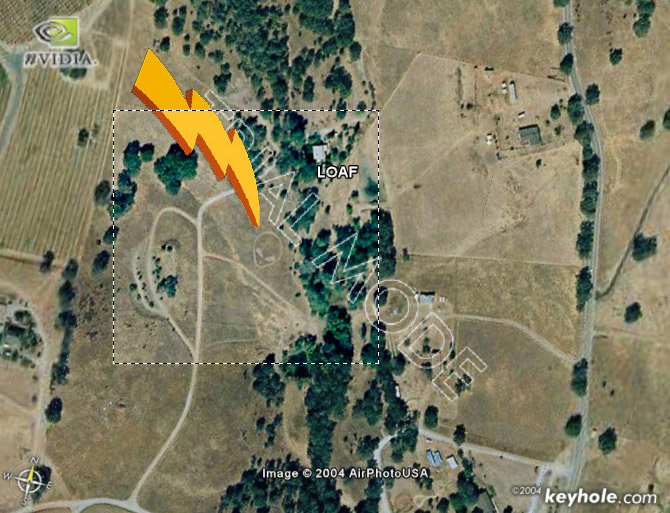 End of Transmission ____________




"At The Crossroads of Art and Science"


(A new sign in '91)


It sure needs a new paint job.



This view is impossible now days. A "heard" of trees we planted back then have since grown up, a garage and a 2nd level deck out this end was added and the whole place got a Barn Red face-lift with a White trim...WIP)

(The 1st year), Originally built as a barn, the barn house was renovated, (gutted) and remodeled in 1991 to become the home and studio of artist Ric Hornor and Jody Hornor. It houses the works of some well known and many brilliant artists. Labors of love, as all true art is. It is open to all who are interested.
Please call first, 916-933-4490

"The" Lightning Oak
This is the tree the place was named after. In the summer of '91, Jody and I were trying to find out how to get rid of the bees that had infested the trunk of this tree but before we could resolve the situation, a lightning storm came along and hit it. The pressure built up inside the tree, due to the hollowed out area the bees dug. Well, the explosion sent a third of the tree flying. I found pieces of it, limbs, branches, etc. up to about 250 feet away in every direction, What an explosion!


Photo collage from before the days of digital "Photomerge"
and certainly before the day of Lightning.



A pilot/general, while getting his hours in to keep his wings, flew over and made a pretend bombing run on "Peace on Earth"
That's where the coordinates came from, (the trainer).

Peace on Earth" '94
Almost every spring since '91 I've been cutting weed symbols and words out of the grass in the hills at "LOAF". This one was about a hundred feet in diameter. It's been pretty fun watchin' the cars on Salmon Falls road slow down and sometimes stop to take a peak at the hillside deformities.


It's still early in the season so I may still 'wack' a symbol in the weeds this year.
I'm thinking about a "$"
(a sign of the times)

"Roadrunner" by Moby Dick of Landers, California. 52" tall, made from joshua cactus This guy was found by Jody and I when we were driving along an old road in the desert. We saw a sign that read, "Ding-a-lings ahead". Sure enough, about a mile up the road were a herd of figures made from Joshua trees. The guy who makes them goes by the name of Moby Dick and is as much of a character as his ding-a-lings. Check 'em out! 1474 Old Woman Springs Rd.
(619) 364-3094 Moby was 'old as dirt' back in '93. He's likely under it by now.


circa 1993. The weather ate this guy long ago.

"Cover The Earth"
This was one of those finds ya just can't leave behind. It weighs a ton but it sure is pretty, (to me).
Thanks for visiting the virtual
Lightning Oak Art Farm!
A place where everyone can feel at home, where you can see art shows and wonder around 'till yer heart's content.
Next trip maybe we can take a walk around inside or down by the pond, or maybe we'll just have a beer in the shade and LOAF!
But "time is short," said the rabbit, "gotta run..."
Ric@FineArtCenter.tv Say hello when you're around. And as always, Look and See! "Art, it's one of the few things left worth doing!"

...So what isn't under construction?